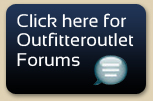 Advertise With Us
Thank you for your interest in advertising in the Outfitter Outlet Activity Directory. Two great benefits of advertising on OutfitterOutlet.com are:
Fixed Cost: The price you initially pay as an advertiser will always remain the same from year to year as long as you renew before your annual contract expires…even if the prices increase in the future. Enjoy the peace of mind knowing the exact cost of your advertising expense from year to year will give you!
One Fee, Equal Exposure: Unlike listings at other sites that may be listed alphabetically or 'first come, first served', links at Outfitter Outlet will be displayed randomly.  For example, each time a user clicks into a category (ex. South Dakota, Pheasants) the websites listed in that category will display in random order. This ensures that everyone listed in a certain category, regardless of the size of their outfit, has an equal chance at being listed first. This gives you the best value for your advertising dollars!

Currently we are offering an introductory pricing option for $99.00 USD. This offer is good through the completion of the site, at which time the regular prices will go into effect. The benefit of joining under the introductory offer is that your rate will never increase from year to year as long as you renew before the annual contract expires. Joining now will save you money in the future!
As an advertiser, you will receive:
A listing under one state, province, or country (if no state breakdown) and one category
(ex. Texas-Waterfowl, view example).

A listing includes a brief description of your organization, followed with a more detailed description of your organization that includes vital information including location, phone contacts, e-mail, and most importantly, a direct link to your website.
Additional states or categories that you wish to advertise in may be added for $50.00 USD each (view example).
Simply Login and then use your account manager to add Outfitters!