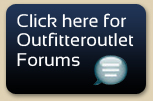 About Us
Outfitter Outlet was developed by its founder after an unpleasant and unsuccessful attempt at booking a last minute turkey hunting trip in the spring of 2005.  Frustrated by various distractions and pop-up advertisement found at most sites, the decision was made to construct a simple, yet sophisticated site dedicated to providing correct, precise and detailed information.  The result is Outfitter Outlet.com.
At Outfitter Outlet.com you won't find a cluttered and muddled home page or have to worry about annoying pop-ups.  You will simply find the most relevant information we can provide on the topics, sites and service providers of your choice.
Our team is made up of sportsmen who, like most of you, enjoy traveling and living the outdoor life.  We love to hunt, fish, and camp with our families and friends.  We spend as much time as possible searching and planning our trips to minimize the risks associated with venturing to first time outfitters and sites.  Again, like you, we expect to get our money's worth when traveling.  We don't like surprises in the form of add-on fees, sub-par accommodations, etc.  This site is here to help you alleviate these 'surprises' as much as possible.  Enjoy the site, feel free to contact us, and we wish you the best when on your next adventure.